Today I interview Charlie Hills of Back to the Fridge as part of his blog tour for his book Why Your Last Diet Failed You and How This Book Won't Help You on Your Next One.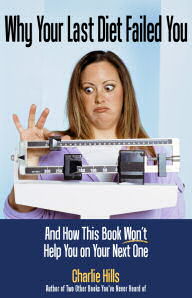 Where did the idea for "Back to the Fridge" come from? Is it because Marty McFly tries to order a Tab soda in "Back to the Future" and you recount in your book that you hate Tab soda?
Wow, that's a connection I don't think even James Burke could have made. Well, done! Unfortunately, that isn't the case. To be honest, I initially wanted to call it "Tales from the Fridge" but that was already taken. Serves me right for not starting my blog back in 2002.
It actually turned out to be a good name, though. One thing I never saw coming was the shear number of movie references I make in my posts. I'd love to say I planned this all out to tie in with the movie allusion in the blog title, but then I'd be lying.
Early in the book you tell of a day you stepped on the scale and the number rolled over 200 pounds. This is a touchstone moment in many people's lives. Why did this number motivate you?
The number itself, of course, is completely arbitrary. If I were weighing myself in kilos, stones, or even peanut butter jars, then some other completely arbitrary number would have taken on mystical significance.
But that's what it's all about, isn't it? Whatever that mystical boundary is for you, crossing it is that slap in the face— the realization that you're no longer what you thought you were. It's a "Moses moment": you know, where you feel like you've been pulled out of denial. Har har.
In the book, you recount the time you walked the Chicago marathon. You also say if given the choice between a marathon or a cheeseburger, you should pick the cheeseburger. What if they put the cheeseburgers at the end of the marathon? What would you do then?
That's actually an easy question. You see, the place where the marathon ends is generally announced beforehand and is easily accessible by car.
Seriously though, what was it like to walk a marathon?
Relatively insane. For one, you go a lot slower than even the slowest runners. And for me, I went slower than most of the other walkers. It took me about seven and a half hours of non-stop plodding to cross that line. My legs and butt hurt for days afterwards.
But the experience! I may have complained about it at the time, but I can only look back on it with amazement. I mean, at what other point in one's life can one eat nearly unlimited bowls of Honeycomb cereal and fresh strawberries, for months on end, without any guilt?
Do you draw smiley faces and frowning faces on your weight charts at home too? They add flare.
Nope. I just save that for my adoring public. I got the idea early on after I dropped a couple dry graphs in there. I thought the data was important, but unfortunately, it just looked like data. Nobody wants to look at that. It immediately hit me: these graphs need some life. I've gotten more comments on the graphs (both in the book and on my blog) than I ever expected.
What do you hope people get from your book? Is there a certain message or feeling you want to convey to people?
My greatest hope is this. When people read the book, they get an overwhelming sense to tell ten friends to buy it too. The message is, "Charlie needs some incentive to write more."
But seriously—and yes, I do get serious once in a while—the message I want to send is in two parts. The first part is in the subtitle of the book itself, and How This Book Won't Help You on Your Next One. My book won't because no book will. I think far, far too often we're counting on the rest of the world to solve our problems. We're looking for silver bullets, miracle ab machines, and cases Acai berries to mend our souls. The second part is simple: you're not alone. It's easy to feel alone in this game. It's easy to feel like you're the only one battling this nemesis, or the only one who gives up too quickly, or the only one who can't tie your shoes without a struggle. I combine the two best medicines out there: laughter and commiseration. How can you beat that?
Thanks, Charlie! To win a free copy of Back to the Fridge, leave a comment on this post by 11:59pm on Sunday, April 19th, 2009 telling me the weirdest thing that is in your fridge right now.
You can also catch up on yesterday's tour stop at Lynn's Weigh, and don't miss Monday's stop at Biggest Diabetic Loser